Mauget capsules are simple and easy to apply. No need to purchase expensive, complex tree-injection equipment requiring costly repairs and maintenance. Mauget products have been developed strictly for trees with no need for any kind of "Bark Plugs". A cordless, electric drill is all that's needed.
Mauget is"The Right Way To Treat A Tree."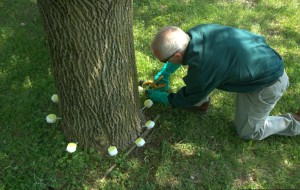 SIMPLE & EASY INSTRUCTIONS:
Measure the tree at breast height (DBH) in inches (diameter).
Divide that number by 2 (if measuring circumference, divide by 6), that will establish the number of capsules to use on the tree.
Drill 11/64″ holes approximately 6″ apart at the base (root butress) of the tree, 

avoiding root valleys

.
Compress capsules by hand or use the Mauget compression tool.
Insert the feeder tube onto the capsule (g

unsight upward

).
Place capsule and feeder tube into holes drilled into that tree.
Tap the compressed capsule and feeder tube on the rear of capsule seating the feeder tube into the tree while puncturing the capsules membrane/feeder tube interface at the same time.
Remove capsule and feeder tube from the tree when empty.
Dispose of the emptied capsules as outlined below.
FOR MORE DETAILED INSTRUCTIONS … Read More
Watch our installation video in either English or en Español: